Sometimes Office programs such as PowerPoint or Word can stop responding. A pop-up message can also appear on your screen regarding the issue. Here, we are describing the causes behind the office program not working and its possible solutions. Here is the figure that displays that the MS word has stopped working.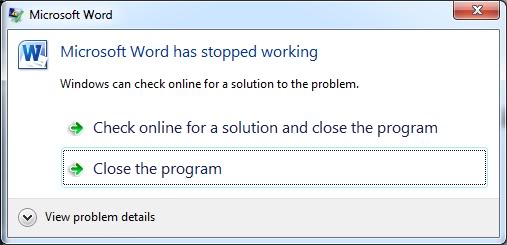 Why is my office program not working?
Office programs may crash, slow down or stop responding due to many causes. The possible reasons behind your office program not working can be;
Maybe you haven't done the latest update launched by Microsoft.
Maybe there is a corrupt file on your computer device.
It can also occur due to an error in the Office Click-to-Run application.
Too many instances and abrupt tabs of Microsoft programs can also cause this issue.
How to solve the issue of the office program not responding?
If any of your office programs not working due to the above-mentioned causes, you can try these methods to fix the issue.
Method-1: Repair the office click-to-run application
For Windows 10,
Start by opening the control panel. [you can open it from the start menu]
Go to programs in the control panel pop-up.
Now select the option to uninstall the program.
Choose Microsoft 365 and then choose Change.
Now select the option of Quick repair.
Select the option of repair. [your device may ask for a restart after the repair process]
Method-2: Word in safe mode
If your Microsoft word has stopped working, then try to open it in safe mode. For this, start by closing all the instances of Word on your computer at that moment. Then,
Firstly, Click Windows key + R. This will open the Run Window on your screen.
Now type winword /safe in the given space. [focus on the space after winword]
Now click ok or click on enter. This will open your Word in safe mode.

In Conclusion,
If you are still not able to resolve this issue, we recommend you to contact our Technical Support team.
We also provide you a 24×7 chat support. I am sure our team will help you resolve your issue  also meet your requirements.